DUO is an office dividing wall system in which highly safe glass elements featuring polycarbonate vertical joints guarantee not only a high level of soundproofing but also the absolute neatness of the image obtained, especially through the use of extruded aluminum profiles fixed only on the wall perimeter.
The DUO system, which is available in double glass, single offset glass, and central glass versions, has the capacity to accommodate different styles and project ideas, from the most strict minimalism as far as visible profile dimensions are concerned, to the maximum possible compensation
in the absorption of the elastic arrows of slabs.
The DUO walls, which are 100 mm in thickness, are made of double or single 10mm-thick glass slabs available in tempered and laminated versions with structural and locking functions. The glass fixing function and the floor, ceiling, and wall-leveling operations are all guaranteed by a system of telescopic profiles made of a 10/10 pre-varnished metal guide rail and by aluminum alloy extruded profiles that are used to hold the glass in place from the inside, with glass holders and central and lateral finishing crankcases. The leveling operations are guaranteed by adjustable feet fixed to the lower glass-holding profile, which interacts with the telescopic rail at floor level. The DUO system does not include upper or lateral adjustment panels. Each element is made to measure based on the needs of the building site.
The seals, made from extruded polycarbonate semi-rigid, translucent profiles, are prearranged with a double two-sided tape and guarantee an optimal acoustic function as well as noticeably improving the stability of the structure and resistance to horizontal stress.
The DUO wall doors, available as single glass, double glass, or opaque panels, feature aluminum alloy profiles shaped to guarantee the best possible acoustic isolation. The frame gasket on the door, made of a semi-rigid plastic, and the steel slab that supports it, guarantee a tight and precise closing of the lock. The doors can feature a wide range of accessories and knobs to choose from, and the possibility to use an invisible automatic door-closing mechanism on the outside or at floor level.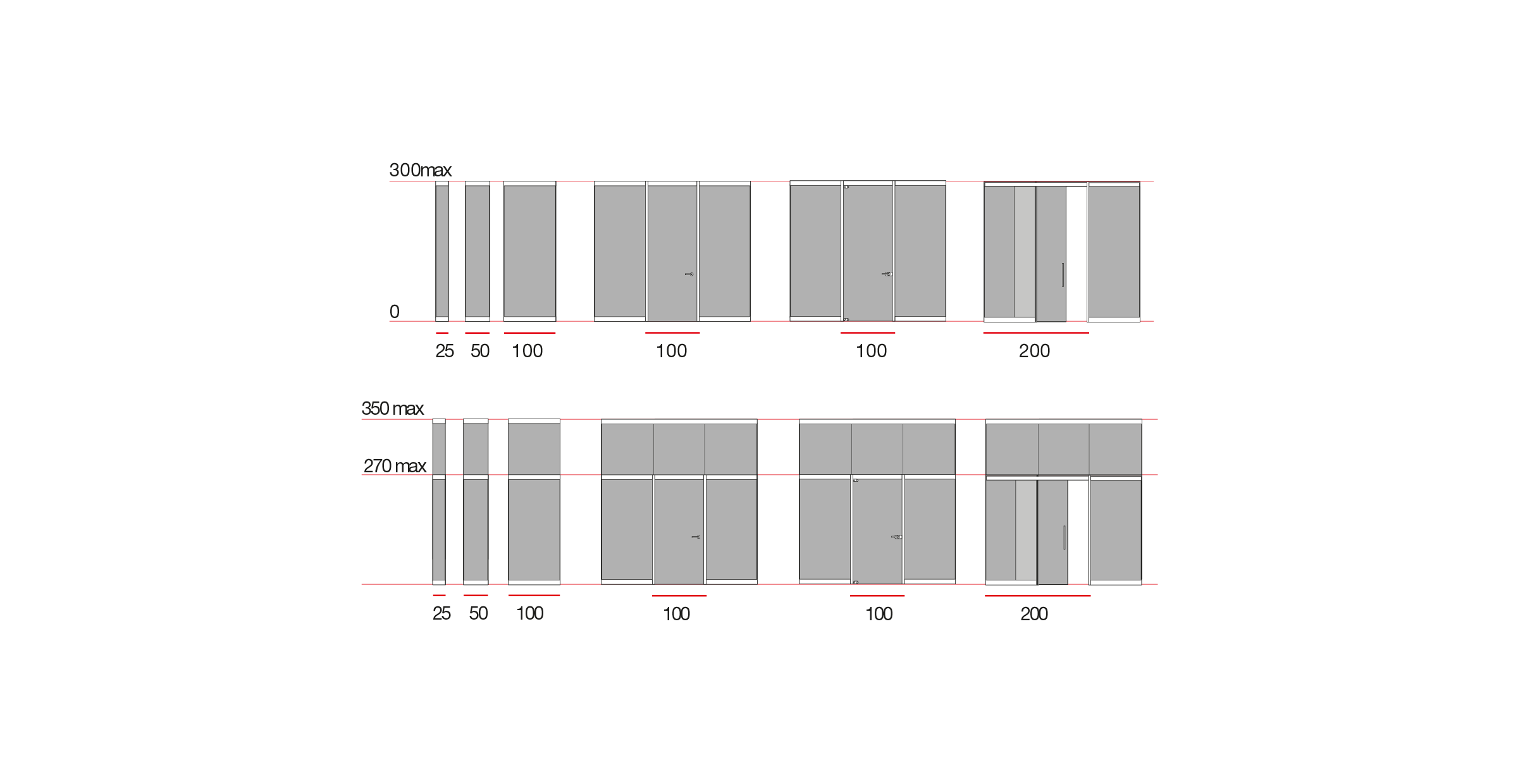 Contact us to find the right solution for you!