NEXUS is a weight-bearing dividing wall system built with single glass panels. It has no internal structure and features a vertical polycarbonate joint that ensures absolute formal cleaning, also thanks to the presence of the extruded aluminum structural profiles fixed exclusively on the wall perimeter.
The NEXUS system, with its range of proposals for horizontal profiles running along the floor or ceiling, allows for a brilliant resolution of all kinds of projects, as well as for the perfect compensation of the elastic arrows of the slab even up to +/-25 mm. It also guarantees an excellent level of soundproofing thanks to the variety of glasses that are available.
The NEXUS walls, which are 36 mm in thickness, are made of single 10 or 12 mm-thick glass slabs available in tempered and laminated versions with structural and locking functions. The perimetral holding structure, visible both horizontally and vertically, is completely made from articulated pre-treated extruded aluminum profiles that are pre-arranged to centrally receive the single-slab vertical glass and/or opaque panel elements through the insertion of the appropriate gaskets. The weight-bearing glass panels do not need any additional supporting profiles. The NEXUS system does not include upper or lateral adjustment panels. Each element is made to measure based on the needs of the building site.
The seals, made from extruded polycarbonate semi-rigid, translucent profiles, are prearranged with a double two-sided tape and guarantee an optimal acoustic function as well as noticeably improving the stability of the structure and resistance to horizontal stress.
The doors of the NEXUS wall are made with a pre-treated extruded aluminum profile structure with gaskets on three sides. These are shaped to receive the glass panels and are perfectly assembled and pre-arranged for both opaque and glass hinged doors, and they come with hinges, knobs, and locks. The doors available can be coplanar opaque or glass doors with an opening, or either sliding or hinged doors with pivot or lateral hinges, plus a wide range of accessories, knobs to choose from, and the possibility to use an invisible automatic door-closing mechanism on the outside or at floor level.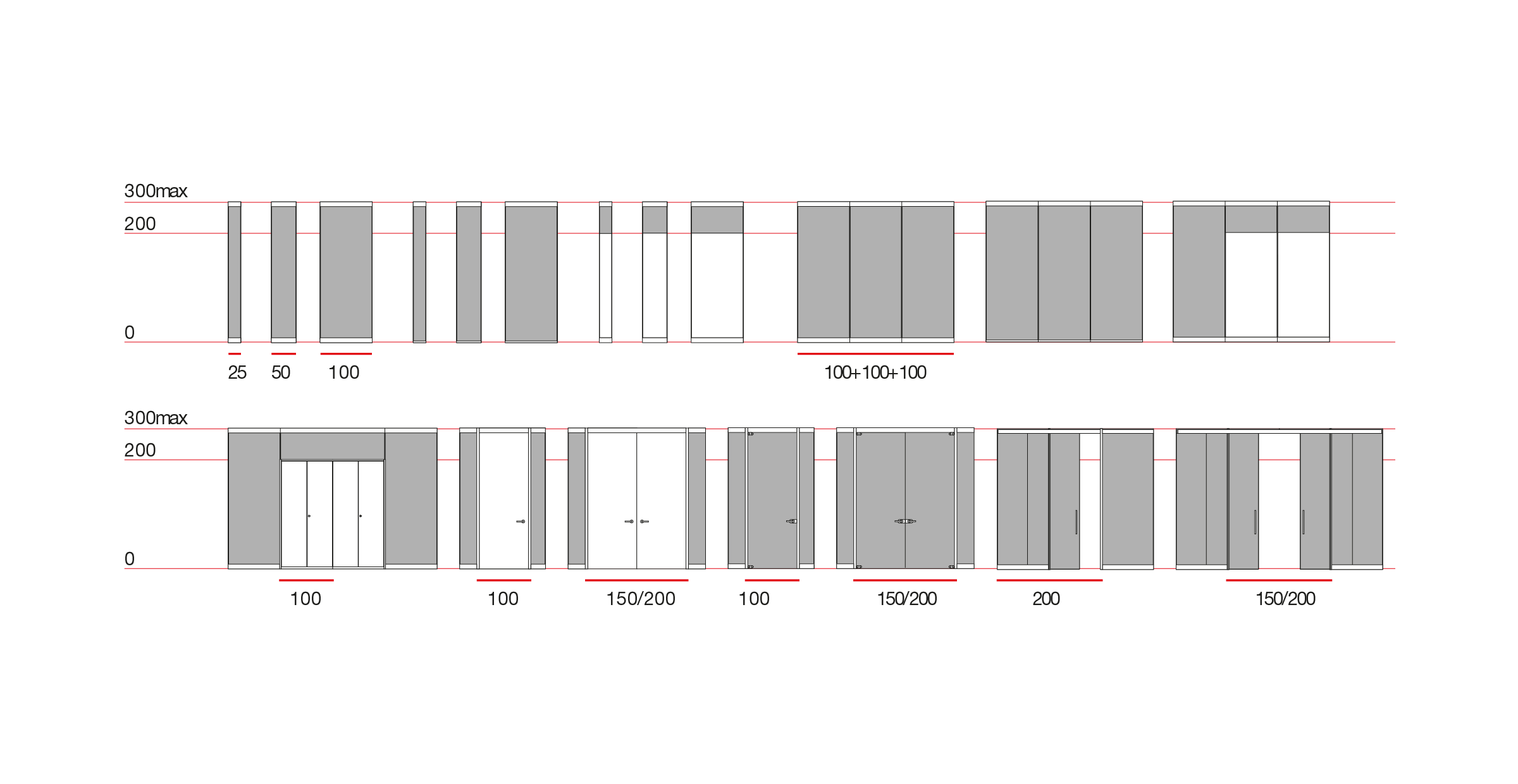 Contact us to find the right solution for you!