TALEA is a dividing wall system that serves the double purpose of dividing spaces and acting as a container set in place
to classify and file documents and working instruments. It is modular and can be paired with the whole range of Nordwall dividing walls.
The TALEA system, made up of modular elements that can be adapted to different user requirements, allows for the brilliant resolution of any kind of project,
offering maximum flexibility and quick assembly, as the prefabricated components do not require any kind of modification or refinishing at the building site.
The 463 mm-thick TALEA wall is designed to be used from both sides and can accommodate compartment doors. It can be used entirely as a storage compartment, with the sole exception of the horizontal and vertical adjustment strips destined for the insertion of possible further extensions. It is available in a "day version" and a "closed version" with compartment doors and various accessories that can be added (drawers, classifying drawers, sign-storage structures, etc.). The compartment doors can be made of opaque paneling or safety glass, and they are fixed to the sides with nickel-plated steel hinges that open up to 105° degrees. The system includes nickel-plated safety knobs and can be equipped with key locks that come with hinges bolt fixed at two points.
The structure of the TALEA storage wall is made up of sides equipped with clamping elements on both ends, which allow for the quick leveling of the system and for the perfect alignment of the compartment doors. The back is fixed to the sides by click-on devices designed to allow the back and compartments to be turned around without altering the overall structure.
The main shelves and the sides are made of a 22 mm-thick E1-class anti-scratch melamine compound, with the two heads finished with 5 mm PVC in order to keep dust and noises out, as well as to soften blows. The compartments, backs, and adjustable bands are made of an 18 mm-thick E1-class anti-scratch melamine compound. The sides feature adjustment flaps of up to 15 mm on the lower part for horizontal alignment, and continuous 32mm-vertical slots to allow for the hooking on of shelves, compartment doors, and
backs.
The mobile metallic shelves are made of 8/10 powder-coated steel plates, shaped at the lower end with grooves intended to hold folders; they are fixed to the sides with special supports to be inserted in the vertical slots.
The doors of the TALEA wall are made with pre-treated extruded aluminum profiles with gaskets on three sides, and they are adjusted in their thickness so they can be clicked on and then be fixed to the structure using invisible screws. They include opaque or glass hinged doors with their hinges, knobs, and locks.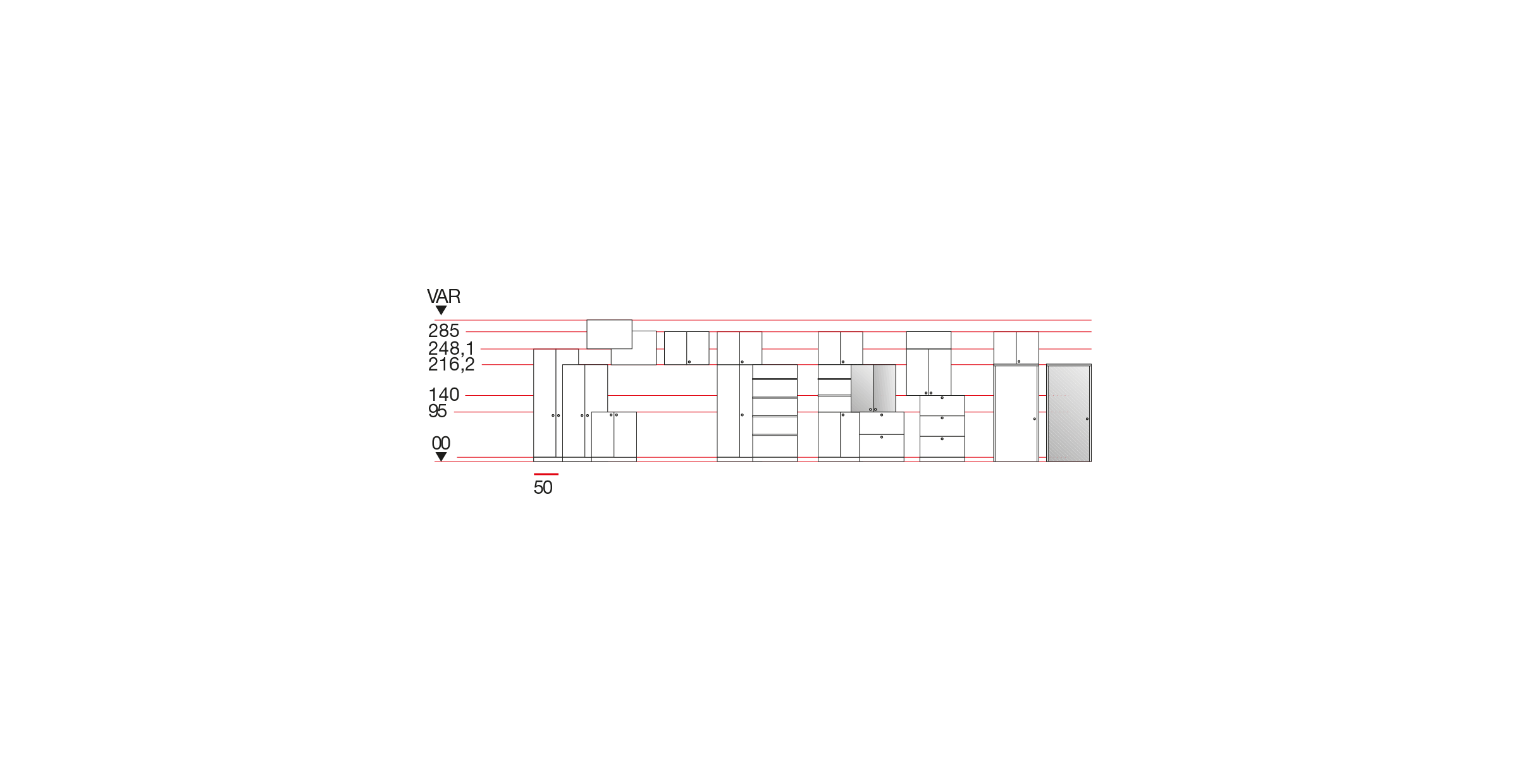 Contact us to find the right solution for you!